Here is a trailer I built for the sole purpose of being able to pull a moose or an elk out of the bush by myself....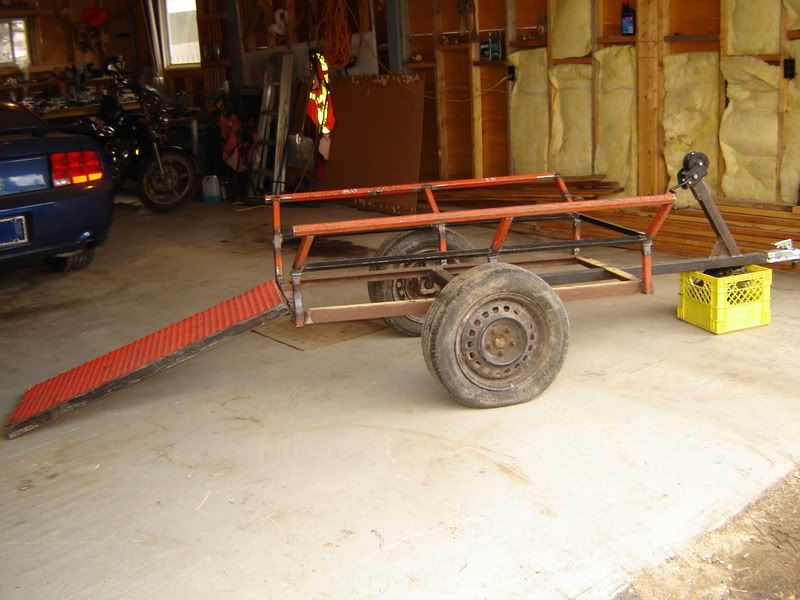 I started with the rear axle from a front wheel drive Chevy Cavalier type vehicle...Cut off the round crap axle, flipped the axle mount to the top side and welded in a piece of 2" tube...13" of ground clearance...1 1/2 " angle iron outside frame, tied to the main 2" tongue....Used some old heavy walled 3/4 " tubing to build the sides, took them up about a foot and then bent them 45 degrees out, so it is a natural chute.....Mounted a riser, with a support gusset and then an 800 lb hand winch.....Small ramp which hooks onto a lip on the rear of the trailer to slide a critter in....
I know it does not look great at this point, but I put a sheet of 3/8" plywood on the bottom and painted her all up with marine enamel black, but did not take a picture, as hunting season was starting, so my priorities switched quick....
Ironically I shot my elk this year and did not use the trailer...Not because I did not want to ...I shot my elk in a Closed Vehicle area
So it was back to old scholl...4 guys and a long pole tied across the antlers and the human mule team was in action...Luckily it was only 350 yards of airly flat ground to the Closure Boundary....
If anyone would like more information (measurements) or more pictures, just ask away.....
Mike