Hello -
Just signed up - this is my first "real" posting - the first actual one was an intro in the introductions forum.
I'm a newbie that has just completed a course for adults that want to get into welding as a hobby. It was an introductory course where we got to try everything but spent the most time on the sticks. Torches, Stick, Mig with gas, and tig. I even attempted to run a few beads on some alumimum - as much as a humbling experience as that was, I really liked the tig for it's control, precise-ness, and most of all cleanliness. Being a slow process is ok with me as I'm in this for a hobby and don't mind tinkering away - there's no boss or customer breathing down my back.
I have a loaner stick welder from a friend of mine - it's a little inverter Miller Maxstar 150S and so I'll be attempting a few simple projects with this process for a while. I'm pretty good at butt joints and T joints but the laps are always messy as I tend to burn away the edge too much. (Maybe I'll design all my projects without lap joints at first
).
Anyway - on to my first round of questions. I have some steel 1" square tubing, 0.100" thick wall and I want to fab up some little brackets to hang the aluminum extension ladder on the wall of the garage. You can buy these brackets for about 10 bucks but I'd rather spend the money on materials and hours of cutting, grinding and welding and painting ....here's a quick drawing of what I am thinking about -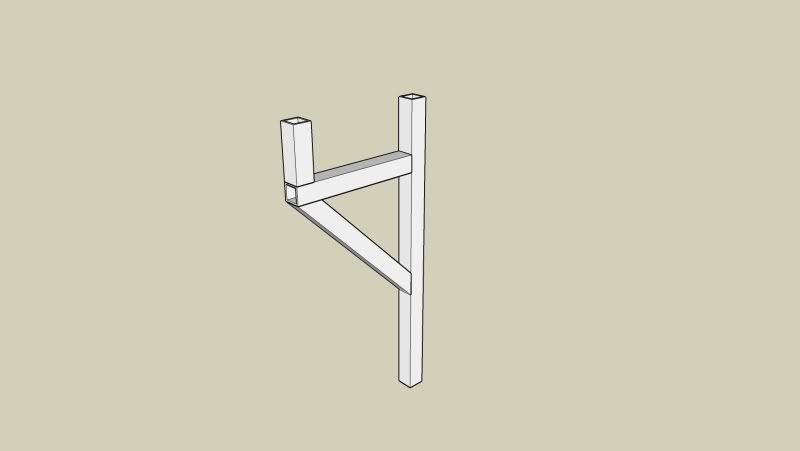 I have some 3/32 7018 rods and some 1/8 6013 rods. There will be some simple 90 degree butt joints and a few 45 degree miters but again, just butt joints.
100 amps good setting to start with?
should I bevel the edges a little to get more penetration?
100 amps seems a little high for the 3/32 7018 rods so I am thinking of using the 6013s - any comments on this?
Any other advice for a rank amateur here? I will probably do a few test joints on some of the scraps after I cut up all the pieces for the brackets to try and get better tuned in on the current for my travel rate etc.
Thanks and great to be aboard here.
Lewis